The Surcharge Feature enables you to charge a percent-based fee to credit card purchases taken through HomeGauge Payments. Once the feature is made available, you will only need to enable the feature and set a percentage amount (up to 3%), and all credit cards (debit and prepaid cards are exempt from surcharge fees) will be charged the Surcharge.
Quick Read
30 days before enabling the surcharge fee, you will need to Notify HomeGauge

Surcharges are enabled under Company Options
The maximum Surcharge is 3%
Surcharges are automatically applied to every Credit Card purchase
Surcharges do not apply to debit and prepaid cards
Surcharges may be limited or prohibited in some states, including Colorado, Connecticut, Florida, Kansas, Maine, Massachusetts, and Oklahoma.
Limitations
The generally accepted limit for Credit Card Surcharge fees is 4% - however, to better protect you from any liability, we limit the amount you can apply as a surcharge to 3%. This should cover any costs incurred for credit card fees.
NOTE: You cannot apply a surcharge fee to prepaid or debit cards. HomeGauge Payments automatically excludes these cards.
NOTE: Surcharges may be prohibited in some states, including Colorado, Connecticut, Florida, Kansas, Maine, Massachusetts, and Oklahoma. Please consult your legal advisor to ensure you comply with current applicable state and local laws regarding surcharging.
Requirement Information
Before you can start charging a surcharge fee, you must meet requirements set by the credit card networks (VISA, Mastercard, Discover, and AMEX). Each network has rules around surcharging and what you, the merchant, must do before charging a surcharge fee.
If you plan to add surcharges, you need to post a notice at the entry to your store letting customers know that you add a surcharge to all credit transactions. Please post a notice at your point of sale (your register). The notice must include the rate you charge and a comment that it is within your processing fees. You'll need to let customers know about the Surcharge before checkout.
Below is some information for each network:
For the above brands (excluding American Express and Discover), you must include the surcharge amount on the receipt as a separate line item. However, American Express lets you lump the Surcharge and the inspection price into one amount.
How To Notify HomeGauge and the Credit Card Networks
HomeGauge
Alert HomeGauge by emailing payments@homegauge.com that you intend to charge a Surcharge fee

A statement similar to "I will be adding a surcharge with HomeGauge payment transactions" is all that is required.
Mastercard
You'll need your HomeGauge Payments Merchant ID before completing the notification forms.
NOTE: When asked for the Acquirer or Payment Service Provider name, you can enter "HomeGauge." When asked to complete Merchant information, enter your business information.
NOTE: You may need to drop the "p1_" from your merchant id on the form

Log in to HomeGauge Payments
In the menu, select "Profile."
Copy your Merchant ID from the profile page
Complete the form for Mastercard

Mastercard's Merchant Surcharge Disclosure Form

For "Acquirer/Processor," enter "HomeGauge."
For the Type of Surcharge, enter "Brand."
Just to let you know, once thirty days have passed from the last notification you submitted, you can enable the Surcharge from the Company Options.
Enable the Surcharge Feature
The Surcharge Feature will be available on your Dashboard after the 30-day notification period.
Once thirty days have passed from your notification to HomeGauge and the Credit Card Networks, you can enable the feature on your inspector dashboard.
Click Account Settings, then click Company Options.

The Credit Card Surcharge page is at the bottom of the company options. Select the "Enable credit card surcharge fee" option for the Surcharge. Once selected, the surcharge fee will apply to all credit card purchases taken through HomeGauge Payments, whether on the Inspector Dashboard or the HomeBuyer Dashboard.
Currently, the maximum allowable surcharge fee is set at 3%. Please look at local and state law to determine a permissible surcharge.
Taking payment on the Inspector Dashboard
When paying on the Inspector Dashboard, you must enter if the card is a credit or debit card. For Credit Cards (debit and prepaid cards are exempt from the Surcharge Fee), a surcharge will display and be added to the total for the inspection: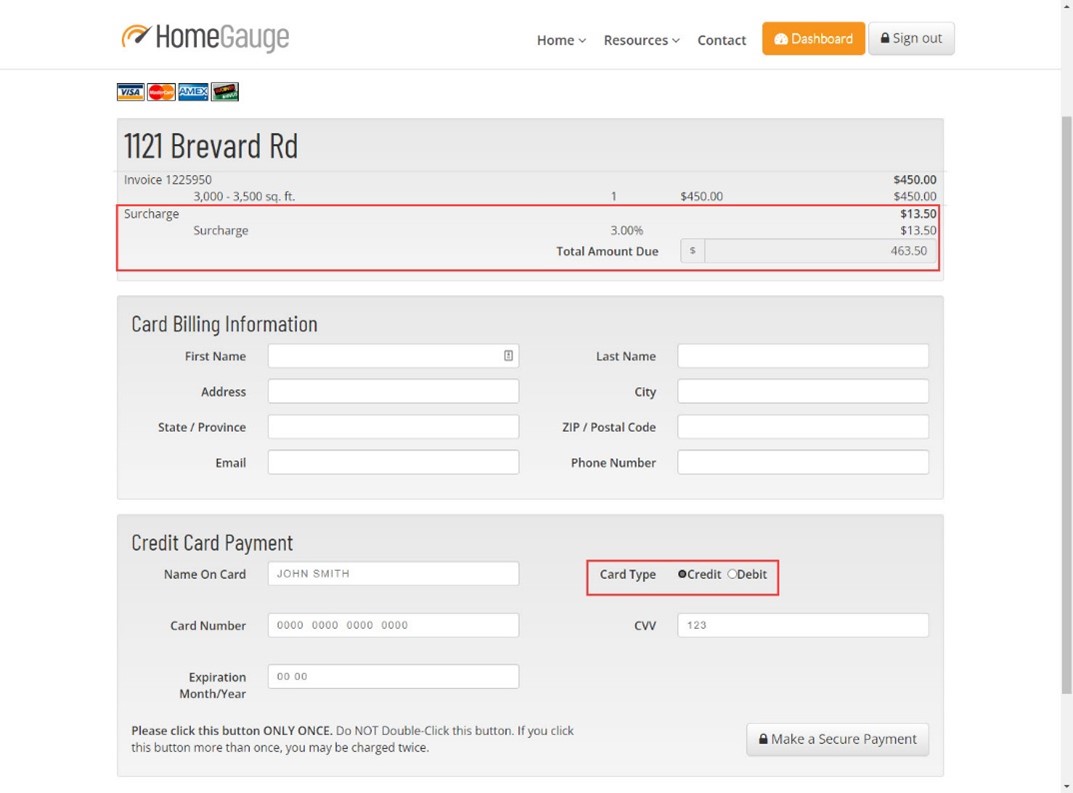 Once you've completed the payment, the Surcharge is shown on the receipt: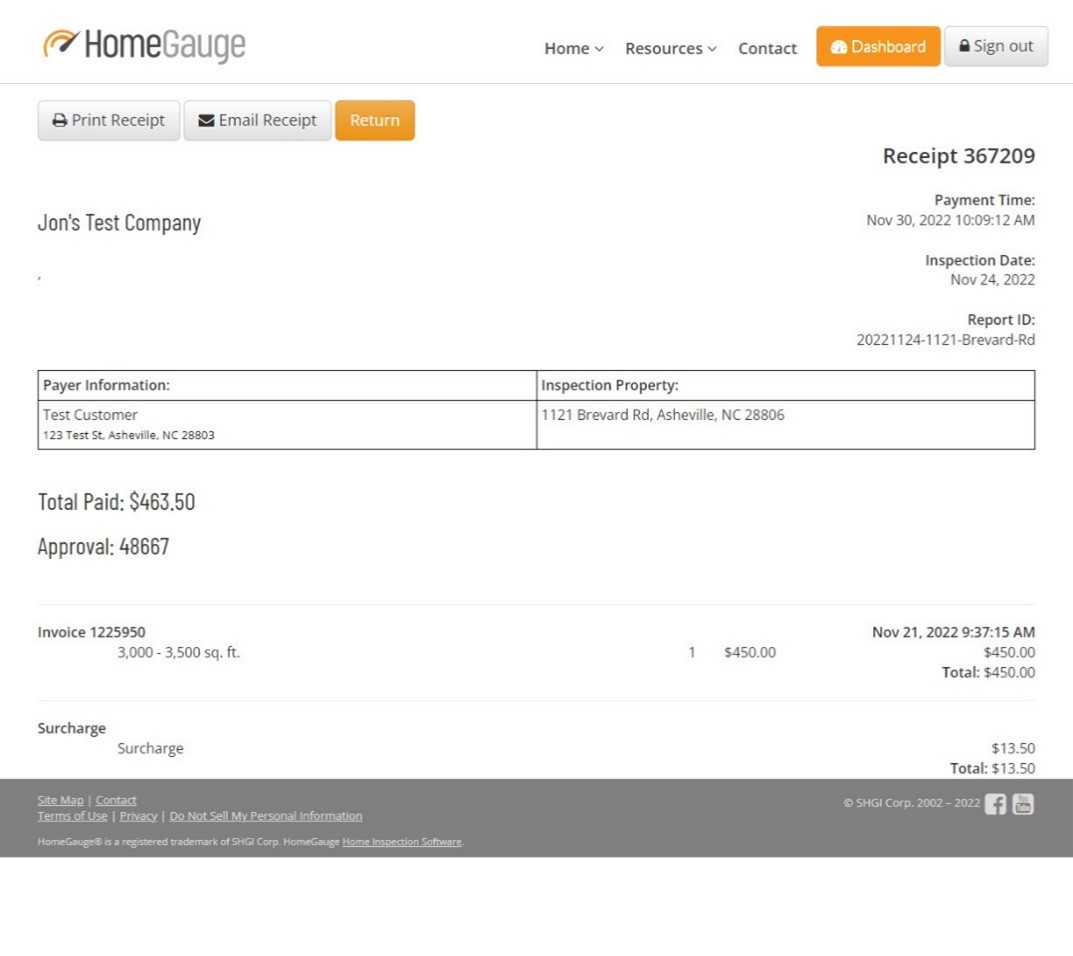 Making a payment on the HomeBuyer Dashboard
The experience on the HomeBuyer Dashboard is similar to that on the Inspector Dashboard: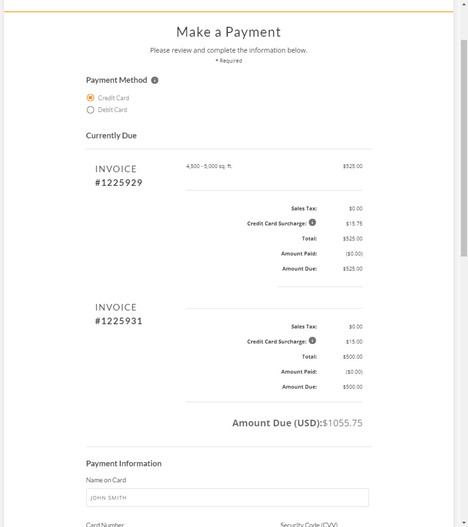 Once the HomeBuyer makes their payment, the Surcharge will display on the receipt: