There are two types of notifications: report notifications and appointment notifications. Appointment notifications are emails sent to customers and realtors regarding scheduled appointments or inspections. To learn more about report notifications, please visit Inspector Dashboard: Edit, Send, and Resend Report Notifications to Customers and Realtors
Edit Appointment Notification Templates
Go to your HomeGauge Dashboard.
Click Appointments > Notification Templates.

You'll see a drop down list for Notification Type on the left and Recipient Type on the right.

Choose the template from the left you'd like to edit, and then the recipient type. Each combination is a unique template, as notifications for a particular event might have different info depending if it is being sent to a customer, a real estate agent, or the inspector.
Once selected, the template can be edited from the below text area. Delete text that you don't want and retype it with the desired text. Use the tools above the editor to format your text.
Once done, click Save Template Changes to save as written. Click the Preview link to preview what the template looks like. You can also click Reset to Default System Template to revert the template back to the original default state.
There are many notification types, listed and it may be confusing to know which one to edit. The most common template used is the one titled Appointment Scheduled (with Login).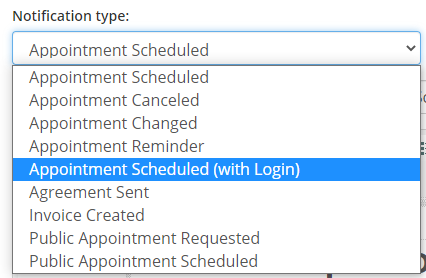 This is the one that will most commonly be sent to customers indicating a need to sign an agreement and will also include their login information. Start here if you are unsure which one to pick.
Disabling Agreement/Contract Signed Email
Go to your HomeGauge Dashboard. In the My Reports section of the page, click Upload / Email Options.
Scroll to Customer Event Notification Options and check the box.
Click Save.
Resending Appointment Notifications
Occasionally, after creating an appointment and sending email notifications, you may need to resend those notifications to your customer or a real estate professional. Luckily, HomeGauge offers an easy way to do this.
Log onto your

HomeGauge Dashboard.
Locate the Dashboard menu and click

Appointments

>

Calendar.

Locate the appointment that you need to resend notifications for.

Double-click

the block in your calendar.
You will be taken to the Edit Appointment page for that appointment.
Locate the

Actions

drop-down. Click it and then select

Send Notifications.
Send Notifications" style="box-sizing: border-box; border: 0px; height: auto; max-width: 100%; margin: 20px 0px;"
You will be brought to the Send Notifications screen. Use the check boxes associated with each user to decide who will get the resent email.
Click

Send Notifications

when you are ready.
The notifications will be resent. You will then be taken back to your appointment calendar.
Sending Agreement Reminder Notification
You may need to resend an email letting your customer know their agreement still needs to be signed.
Once logged in, click My Reports > All Reports and locate the property address you want to resend the agreement notification.
Once you have located the correct property, click on Agreement Not Signed in red located below the property address.

You will see in the top, right corner of your screen the option to click on

Send Agreement Emails.

After you click Send Agreement Emails, you will be at the email notification page. Here you have the option to select or deselect any recipient for sending out the notification.
Once you have your recipients selected, scroll to the bottom of the page and hit,

Send Notifications