Accessing Your Report as Home Buyer or Seller

Username and Password
When your inspector has uploaded an agreement, invoice, or report for you to access, you will receive an e-mail containing your Username and Password. If you did not receive an e-mail and believe you should have, please also check your spam and other filtered folders.
Your unique Username and Password will be contained in the body of the e-mail. To log in, follow the link in the e-mail, then type your Username and Password into the Sign in fields.
Important: Passwords are case-sensitive, so be sure to turn caps-lock off and type the characters exactly as shown in the e-mail.
Please note that when copying the Username and Password as a single empty space before or after the username or password will cause the login process to fail.
Click Sign in when done.
If you cannot log in, and are sure you've entered the username and password exactly as shown with no extra spaces before or after, click I forgot my username or password, and enter your email address to get a sent a password reset email, giving you the opportunity to create a new password.
Your Personal Dashboard
Every HomeGauge user has a personalized Dashboard with information about their inspectors and reports. When you first log in, you are on the My Inspections page by default.
Get to know your Dashboard.

My Inspections - Click this at any time to return to your report list.
My Inspectors - Click this to view the names, e-mails and links to leave a rating for any Home Inspector you have worked with. We encourage you to leave your inspectors a rating with a comment.
My Account - Click this to change your User Name, Password, and basic information on file. Click Submit at the bottom when done.
Log Out - Click this link to sign out of your HomeGauge Dashboard.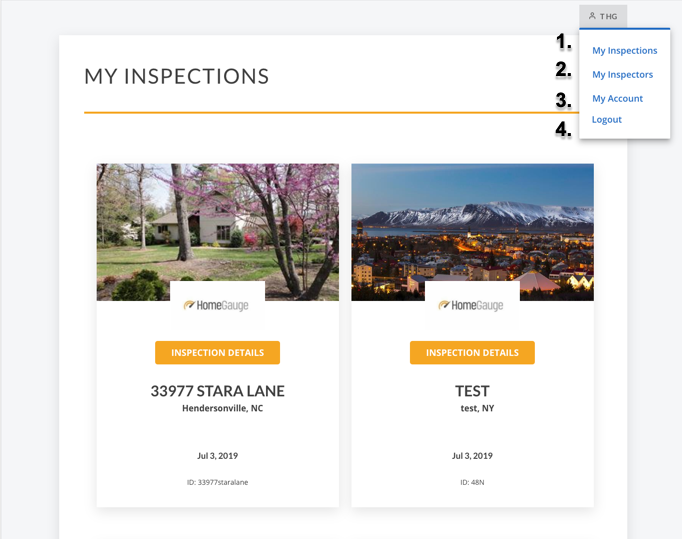 Viewing Your Report Documents
Your report documents are stored in report folders to keep everything tidy. Each folder will have an image of the property, a centered image of your inspector's logo, and details about the property and the date the report was uploaded.
If no reports are listed when you click My Reports, it may be that your Home Inspector has not yet uploaded your documents or given you access to them. You may need to check with the Inspector on the status if you believe the documents should be available to you.
Click Inspection Details on the report folder you're wanting to access.
If it's the first time you have logged in, you are presented the Welcome to Your HomeGauge Account window. Click the link for more information on the HomeGauge Welcome Experience.
If a signature is required, you will see a centered box that says "Signature Needed" with an orange button that says Sign Now.

If so:
Click Sign Now
A page will load with information from your inspector followed by an Agreement document. Read this document fully as it is a legally binding contract with between you and your Home Inspector.
Beneath the agreement, click the Agree option.
Type your full name in the Signature field.
Click the orange Sign Agreement(s) button at the bottom. Note, if there are multiple agreements present, read and sign all of them to continue!


A confirmation will appear and each agreement will list when the agreement was signed. You will also receive a confirmation email.

If a payment is required, you will see a second step in the centered box that says "Payment Due".


If your inspector accepts payments through HomeGauge, you can click the orange Pay Now button to pay for the report. If your inspector does not accept payments through HomeGauge, you may see a note that says "Please contact your inspector to make a payment."
If so:
Click Pay Now
A page will load with Invoice and Payment Information.
Note: As a customer filling out your card information. Make sure to fill out Credit Card Billing / Payer Information using the billing address on the card.
To send payment click the orange Submit button at the bottom of the page.



You can click the View receipts button afterwards to access your invoice.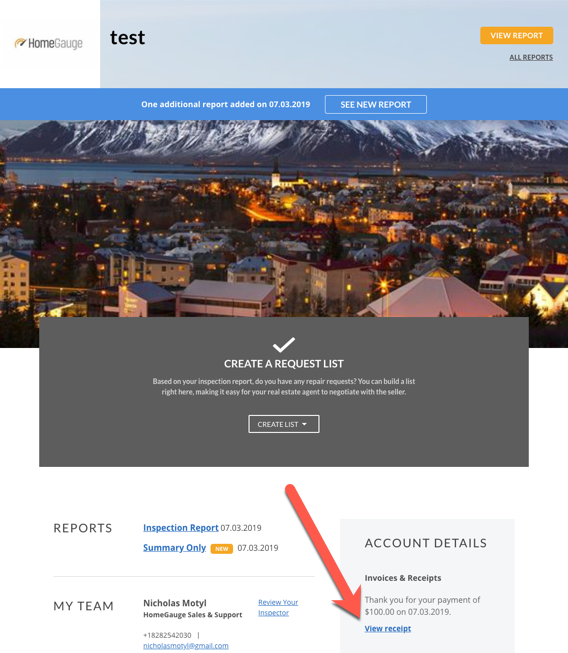 If your inspector does not require an agreement signature or payment, or if you have already signed and/or paid, you should now see a photo of the property with an orange View Report button in the top right of the page. To access the report click View Report.


Other documents including the inspection report are available below Reports. In many cases, you will only have one document called Inspection Report. To access documents, click the corresponding link.


Sharing Your Report and Accessing it Later
When viewing your report, you will see a bar at the top of the screen with the options Download and Share. Note: Sometimes you may not have options to Email the report. See the tip box below for instructions on how to request that the inspector forward a copy on your behalf.

Download - Will give you the option to view or save a PDF copy of the report.


Share- Send a link to the report to one or more recipients. A unique password to access the report is included in the e-mail. You can edit the subject and message before clicking Send Email.

If your inspector has forwarding disabled, you can still request that the document be forwarded. Click the Forward button and a request form will open. You can edit the subject and message before clicking Send Email.