First-Time HomeGauge Users
First time users can start a trial by going to HomeGauge.com and clicking Get a Trial.


From there, you can add the trial to your cart.

Complete the purchase and set up your profile.
Once you are a HomeGauge user, please log in to your HG Dashboard, navigate to the bottom of the left hand menu and then click the Install HG5.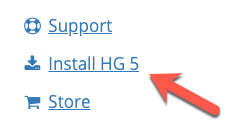 If you do not have an account, it will prompt you to sign up before you can download the software. You can download the trial and use it for 30 days.
Download and Install HomeGauge Software
Log in to your HG Dashboard at this link (click here).
The left side will have a column of blue links. Navigate to the bottom and then click Install HG5.

Click the download button to download of the latest version of HomeGauge or navigate to the button of the page to download older versions.


After the download, run the installer and follow the prompts
If HomeGauge is already installed:
Running the installer when HomeGauge is already installed simply checks the existing files. If a HomeGauge file is damaged or missing, it is replaced with a working version.
Running the installer will not change or remove any templates or reports you have worked on.
Running the installer will not remove your activation, inspector information, logo, contacts, invoice, or any other information.
Activate HomeGauge Software License
If you are unable to locate your software license, either within your computer or in your email, it's very easy to find from your Dashboard. Click here to learn how to find you software license key.
You should receive an email from us with your license key inside
Follow the steps above to download and install HomeGauge Software
Open the software
At the top menu select Options > Inspector and License


Put in your name and the company name exactly as you want it to appear in your reports (spacing and capital letter etc. count). You will be able to change the Contact Info and State License fields at any point by returning to this window. You will have to contact HomeGauge directly to change the Inspector Name and Company associated with the license.

Click Activate
There are a limited number of activation's available per license. If you ever reach that limit, please call HomeGauge Support at 828-254-2030 to have the limit increased. You can install the software on more than one computer as long as you are the only inspector. Our software licenses are per inspector, not per computer.
Downloading Previous Versions
You can download our previous versions of HomeGauge by logging into your HomeGauge Dashboard.
Once you are logged in, you can navigate to the bottom left hand side, and click Install HG 5.

Scroll down to the bottom for access to older versions.

Choose the version you would like to download and click the link. The download will begin. Please note: We recommend that you install and use the most current version of the HomeGauge software.