In Desktop Report Writer, when viewing a component, each inspection item has a corresponding Flag and Status cell.
How to Use Flag Column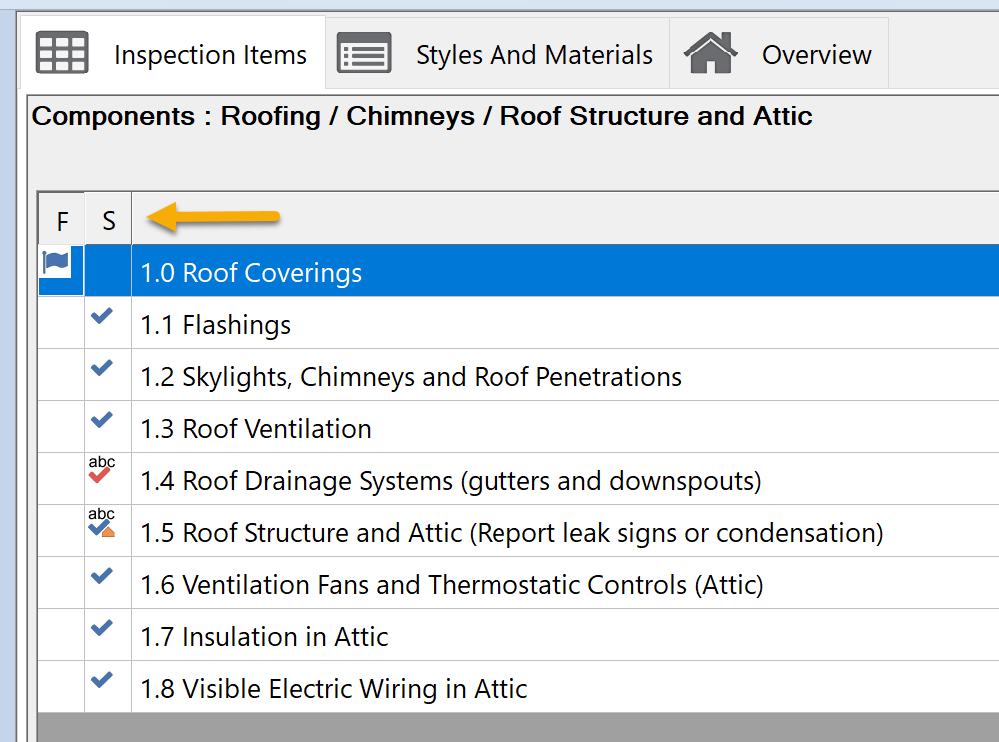 F represents "Flag." Sometimes you may want to jot down a few keywords during the inspection and plan to finish it later. By placing a Flag on an item, you can later use Find Flagged items at the drop down that normally is set to "Find First Unanswered." Also, by placing a flag it keeps the software from thinking you are done with that item when using the Find Unanswered command.

How to use Status Column
S represents "Status." This feature happens automatically as you fill out the report. You can click the S column to see a key of symbols with explanations of what they mean.

Troubleshooting Completed Inspection Item Blank Status
Description of Issue: Normally, an inspection item has a checkmark or similar symbol in the Status (S) column when it's complete. However, the Status column stays blank.
Possible Causes and Solutions

The item has not been given a normal status (inspected, repair/replace, etc.).
If the item is marked Repair/Replace, or any status that sends it to a summary, it requires a comment.
The comment for the inspection contains an asterisk (*). There is currently not a solution other than to simply remove the asterisk. Asterisks are reserved for use in SmartText which is what causes this behavior.

Example: Although the item is checked as IN (Inspected) and a comment is present, the S (Status) column is blank because there is an asterisk in the comment.


Compare to the below screenshot to see that without the asterisk present in the comment, the status column correctly indicates that a comment is present: