Uploading a report to the dashboard allows you to send a report out to your customers securely. It also allows you to protect your reports behind a paywall or block reports until a inspection agreement has been signed. All reports uploaded to the dashboard are guaranteed to stay available to you and any customers you share it with for 5 years.
How Long Do Uploaded Reports Stay on the Dashboard?
Uploaded Reports Stay for At Least 5 Years
Reports uploaded to your HomeGauge Dashboard are stored there for a minimum of 5 years. As of today, we have never actually deleted any reports from the server.
How to Upload the Report
If the report to be uploaded is not yet open, open that report.

Create usernames for the customers.
On the left of the HomeGauge window, click the Customer section bar

Enter the customer's email address
Click Create HG Username



Leave the box blank and click OK. If the customer already has an account with that email address, HomeGauge will find that account. Otherwise, HomeGauge will create a new account.

Repeat these steps for each customer before proceeding
Click Upload on the top toolbar


Check the box next to the appropriate Print Document Setting, then click OK. Most inspectors use the option Full Report for Upload or Print with Pictures.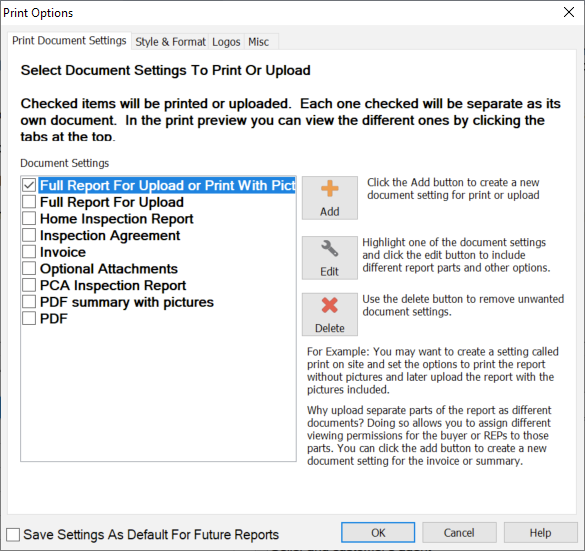 Review your report then scroll to the bottom to click UPLOAD when you're ready to proceed. The report will then upload.


After the upload, HomeGauge will prompt you to Send Notifications. Click Yes to be sent to the Dashboard. Instructions for sending notifications can be found at this link (click here).
Video: Managing Reports from the HG Dashboard
How to Print or Save a PDF (with Video)
While the strongest features of HomeGauge don't show up in a PDF report, sometimes a PDF is what's needed.
Important!

Create a Document Setting for a PDF Printout by following the steps at this link

(click here).
Note: If you already have a Document Setting for PDFs, skip this step. In the latest version of HomeGauge, the Document Setting is called Report for Printing or Saving (Not Full Report). You can check your Document Settings by clicking File > Printing Options.

Click Print in the toolbar near the top of the screen. (A warning may appear that you have not answered all questions. Click Yes if you wish to proceed.)
Check the box next to the Document Setting for PDFs. Uncheck any unneeded Document Settings.

Click OK to see a preview of the report.
Choose to Print or Save the PDF.

To print (choose a printer), click the Print button at the bottom of the window
To save a PDF file, click the blue floppy disk icon in the upper-left of the window. Navigate to the place you want to save the file, give it a name, then click Save