Topics in this Article
Online Public Appointments Overview
With HomeGauge's ScheduleNow and Request Appointment features, your customers are able to schedule time with your company through your website, social media, email, or even a text.
ScheduleNow allows your customers to pick a specific date and time slot for their appointment. These time slots are configured by you through your HomeGauge Dashboard. If enabled, customers can choose from a list of the services you provide and see an estimate of the cost. Once they have scheduled the appointment, you can be notified by email and text. From your dashboard, you can confirm the appointment and send applicable agreements with a few simple clicks.
Request Appointment allows your customer to share their preferred date, time of day, and required appointment details. After you are notified by email and text (if enabled), you will need to finalize the appointment by selecting a date and time that fits your schedule, add your agreement, and send the agreements and/or notification emails.
Initial Public Appointment Set-up
Visit your Public Appointment Configuration by clicking here.
Alternatively, from the main menu click Appointments > Company Settings > Public Appointment Settings.

Select Enable ScheduleNow or Enable Appointment Requests.


Scroll down and click the Services section and set your customers service selection preference, then scroll to bottom and click Save Settings.
To edit the services available to customers, click on Edit Your Company's Services*. For more information about editing Services and Service Groups, take a look at this article.

*Do this step last as it will navigate you away from the Public Appointment Configuration page
ScheduleNow Configuration
If you have enabled ScheduleNow, you will need to set your schedule limits, time slots (your daily availability), and if the appointment requests should automatically block the time slot or not.
Scroll down and click the Scheduling Configuration section and set your Scheduling Limits.
Click on Configure appointment slots to edit availability for each day of the week. From here, you can make up to three inspection times (aka "Time Slots") available to your customers and REPs.

To make a time available for scheduling, choose the start time and end time by clicking in the box.
To keep a time from being scheduled, leave the Time Slot blank. ScheduleNow won't offer that time to your customers and REPs. In any given day, you can leave any or all of the time slots blank.
Once you're done, scroll to the bottom and click Save Public Scheduling Time Slots.

In the Block Time Slot section, set your preference about whether an appointment will block the public time slot prior to inspector approval.

Not blocking your time slot may be ideal in a situation where you want to have more control over the organization of your inspections.
Allowing customers to automatically block your time slot should reduce the chance of double booking.
Sharing your Public Appointment Link
Each inspection company has a unique, clickable link to their scheduler. When you share it with your customers and REPs, they can click the link to schedule an appointment with you.
From your Public Appointment Configuration page, scroll to the bottom of the page to:
Find your link by clicking on Add Apt. To Your Site, or
See what the scheduler looks like to your customers and REPs by clicking on Test Your Configuration.
Here are a few ways we recommend sharing the schedule link:
Email: Paste the link into emails you send to customers and REPs for scheduling
Text: Both ScheduleNow and Request Appointment are mobile-friendly, so you can text your link to interested customers and REPs and they can schedule from their phone
Social Media: Place this link on your company Facebook page (or other social media) so customers and REPs can schedule with you
Website: Share the link on your company's website as a clickable link or a button

If your website is hosted with HomeGauge, you can email your link to webteam@homegauge.com, along with a request to put it on your website

ScheduleNow appointments will appear on the Inspector Dashboard's calendar view.
Customer Email Notifications
On your Dashboard click Appointments > Notification Templates
Click the drop-down selector for Notification Type and

For ScheduleNow,
choose Public Appointment Scheduled for blocked time slots, or
choose Public Appointment Requested for unblocked time slots.
For Request Appointment, choose Public Appointment Requested.


Update the email Subject and Body to your preference for each Recipient type

Finalizing Public Appointments for both ScheduleNow and Request Appointment
ScheduleNow
Pending
If you have set up ScheduleNow to block your time slot automatically, the appointment does not require an approval but we recommend you review them, make any adjustments that may be necessary, and send the appropriate agreements and notifications. While looking at your calendar, blocked appointments will be 'Pending' until the appointment is confirmed scheduled by an inspector.
Requested
If you have set up ScheduleNow to leave the time slot unblocked, you will need to act on the appointment to either accept the proposed time or select a new time slot. While looking at your calendar, unblocked appointments will be 'Requested'. Finalizing the appointment will block your public time slot and notify the requestor that the appointment is accepted.



Make sure that you take note of the services time in particular. The appointment will block the full time slot on the inspector's calendar. Adjusting the appointment with the "Update Appointment End Time Automatically Based on Duration of Services Selected Below" checked will adjust the appointment time once you save the changes or schedule the appointment. This may shorten your appointment or push it into another time slot.
You can edit and add information to the appointment by navigating to your calendar view on the Inspector Dashboard, then find and open the appointment. Once you're done making changes, click Schedule Appointment to proceed.
You may want to create and send your agreement to the customer. If you haven't set up an agreement to use with HomeGauge, click here. Once you're ready, follow these steps:

Customize your agreements by editing the text in the fields
Click Create Agreement Document(s) Below to finalize your agreement(s)
Navigate to your calendar view on the Inspector Dashboard, then find and open the appointment
Scroll to the bottom and click Schedule Appointment
On the Create Agreements page:
Request Appointment
When the customer finishes the appointment request, you will receive an email notification like the one below. The email also contains additional info about the customer, the REP, the property, and any additional comments.
At this point, you should contact the customer to confirm or negotiate the appointment time and settle any details.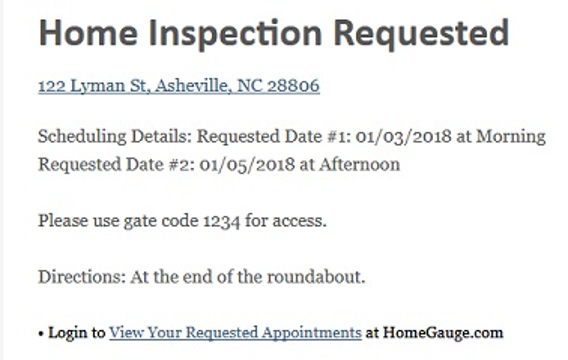 Video: How to configure and use ScheduleNow