In today's modern environment, a website is an invaluable tool for generating business. Luckily you don't have to learn a bunch of coding to get one, as HomeGauge has you covered and can build a website for you. After it goes live, you may ask the question, "Is there anything I need to do to maintain it?" Hopefully, this article will answer a few basic questions about maintaining a website.
Understanding the Components of a Website
The first step in properly maintaining a website is knowing its related components and what makes it possible for people to visit it. A website needs three things in place to function; the actual website of course, a hosting platform, and a domain.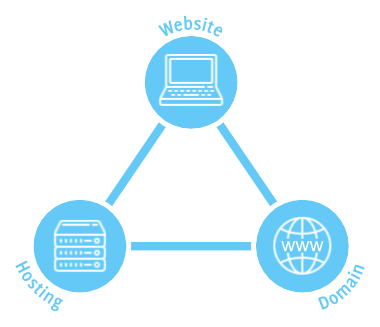 If we incorporate a housing metaphor into the above diagram, we can think of the website being a house that people can see, the hosting is the land or property that supports the house, and the domain is the street address that connects your house to a neighborhood. It's not a perfect metaphor, but hopefully it gives you a good idea of what is happening behind the scenes. Each item in the formula has to be working correctly for someone to be able to visit your site.
Now that we understand a bit of how all of this works together, let's talk about how to best maintain your site to keep everything in good working order!
Your Custom Built Website
If your website was built by our talented web team, you're currently having one built, or are planning on building a site with us in the future, then there is one main thing you need to do to keep your site up and running: purchase and renew your domain name. Read more about this in the section below.
Once your website is complete, we'll give you the login credentials so you always have access to your website. However, unless you have previous experience with editing websites, we recommend you use our Managed Hosting service so that our developers can make any changes to your site for you.
While we commend people for wanting to make the extra effort, what most often happens is that site content is removed or deleted, or an important functionality is broken and your live site doesn't display or work properly. These errors can cost you potential customers. Fear not, however, as things of this nature are rarely broken permanently.
Website Hosting
Again, if you host with us, there's nothing that you need to do. We will connect the wires and make sure everyone who visits your site has a positive and rewarding experience.
If you are interested in comparing our different hosting plans, click here for more info.
Website Domain
This one is very important, as HomeGauge does not maintain or control your domain. HomeGauge is not a registrar, meaning we don't sell or issue domain names, and cannot renew them on your behalf. Remember the metaphor above? The domain is the address that allows people to find your website. A great example of a domain is "www.google.com." It's the words that someone types into a browser find you!
Those reminder emails sent from GoDaddy, or other similar domain name providers, warning that your domain name is coming up for renewal should not be ignored. If you let your domain name expire, your site will no longer work. Since a domain cannot be purchased outright, you'll have to renew it if you want your website to stay active online. If your domain name expires, customers will be unable to visit your website.
You can visit www.whois.com to determine both when the domain expires and the company that you used to register your domain name.
Once there, click the search bar in the top and type in your complete web address (e.g. "www.yoursitename.com"). Click "Whois."

You will then see a page containing valuable information, namely your domain registrar and when the domain expires.

Take note of this information, as you will need to renew your domain when the time comes. Be sure to keep track of any login information you saved with the registrar, as it will make the renewal process a lot smoother in the future.
Hopefully this answers some questions about the responsibilities of the owner of a website. As always, contact us for further questions that you may have.