Search Engine Optimization (also known as SEO) helps your website gain quality traffic through organic search engine results over time.​ Meaning more people will see your your business page and ultimately increase business.
What exactly is SEO?
SEO is a set of practices designed to improve the appearance and positioning of web pages in organic search results. Because organic search is the most prominent way for people to discover and access online content, a good SEO strategy is essential for improving the quality and quantity of traffic to your website.
What is the Difference Between Paid and Organic SEO?
Organic traffic is the visitors that come to your website naturally, meaning they search for "home inspector <your service area>", your site is returned in the results, and they click the link and visit your website.​ Organic traffic is earned by following a search engine's (Google's) guidelines. Google puts the user first and so should your website!​
Quality content must be original. (Google will penalize your site for using duplicate content)

Well-written content answers questions and conveys how your business can help the user.
Organic:
FREE!​

Strategies you can execute yourself​

Long-term and impactful effects​

The only traffic that counts for SEO and search engine results​
​Paid traffic is traffic you get from Google Ad-words and other paid SEO strategies.​
Paid:
Costs money​

Requires a Search Engine Marketing (or SEM) expert, and costs even more money!​

Quick boost that falls off once you stop paying​
On Page vs. Off Page​ SEO
On page SEO refers to the SEO strategies executed on your website (front or back end). Off page SEO is everything else you do to help drive traffic to your site and boost your domain's authority.​
Examples of On Page SEO​:
Keywords​

SEO titles​

Meta descriptions​

Headings​

Content​

Alt tags​

URL structure​
Examples of Off Page SEO​:
Link building​

Social media​

Citations​

Review sites​

Google Ad-words (SEM)​

Domain Authority
With On Page SEO you want to make sure every page is keyworded and descriptive to that page's content. Typically, you would keyword Home, About, and Services pages.​ You would use meta descriptions and SEO titles to show readers and Google what your content is about.

SEO for Google Business​
NAP (name, address, phone number)​

Make sure all of your information is consistent across all citations (listings) on the web​

Link back to your website​

Set your service area​

Upload logo, image of yourself or team, pictures of you inspecting, company branded vehicle​

Get reviews!​

Google reviews account for 20%+ of your local SEO and are critical to local search.​

Single most cost-effective way to market your business is to build Google reviews.​

Learn to gain Google reviews HERE through HomeGauge TRM!

​
Check out the Search Engine Results on page 1 with using (SERPs) Maps & Listing​ techniques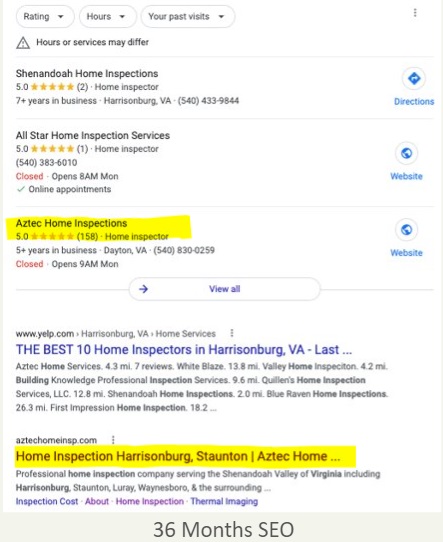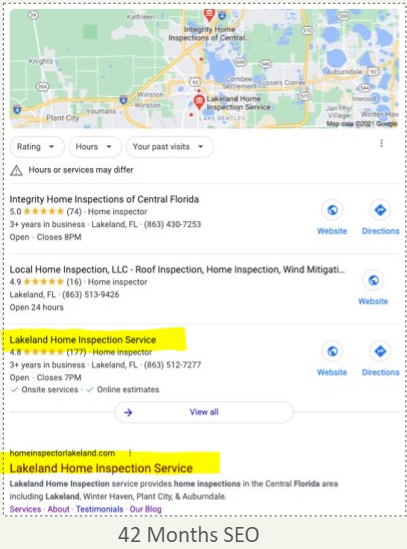 Blogging for SEO
A blog post needs to be completely unique, so you can't use any content you've found on other websites. You'll need to write posts of a particular length and format them in such a way that they're going to be the most pleasing to Google. Also, remember who you're writing for — your post is not for other home inspectors, but rather your clients and potential clients (home buyers, homeowners, and the community)… and for the search engines, which means you'll need to keyword the blog post according to best practices.
Focus on 1–2 long-tail keywords that match the intent of your ideal reader.​

Include these 1–2 keywords in specific parts of your post.​

Link internally whenever possible​

Write at least 500 words​

Add a featured image​

Share on social media​
Google's algorithm is constantly changing, and a good SEO Team will keep up with those changes and adjust their plan for your website accordingly. One known constant, however, is that Google wants you to add new, original, relevant content to your website on a regular basis. This means that for the best home inspection website, you're going to need to blog — or let HomeGauge blog for you as part of our SEO Builder program. You can find examples of our blog posts by reviewing the sites on our sample home inspector websites page.
Ready to dive in? Call 828-254-2030 or purchase a home inspector website built by HomeGauge.