Get paid online! HomeGauge Payments will automate the process, allowing clients to easily pay online. After a successful transaction, the report is released for viewing. It's all automated to save you time and give you peace of mind!
Offering competitive low rates with no monthly or annual fees. Debit cards 2.45%, Visa and Master Card 2.95%, Amex and other credit cards 3.09% with $.40 per authorization.
Please note that this feature is only available to US companies at this time.
If you need any assistance with any part of the application process, please contact HomeGauge Support by submitting a ticket or phone call to 828-254-2030 Option 1.
How to Setup HomeGauge Payments
View a walk-through of the application on our YouTube channel
1. Gather the basic business and banking information below:
Inspector/Owner SSN

Business EIN Number

(Not sure where that is?)


Photo of a Voided check for upload to the form if linking your bank account manually

Bank Account login information



2. Click on this link to be directed to the HomeGauge Payments Application:
3. Click the drop-down for Business Type: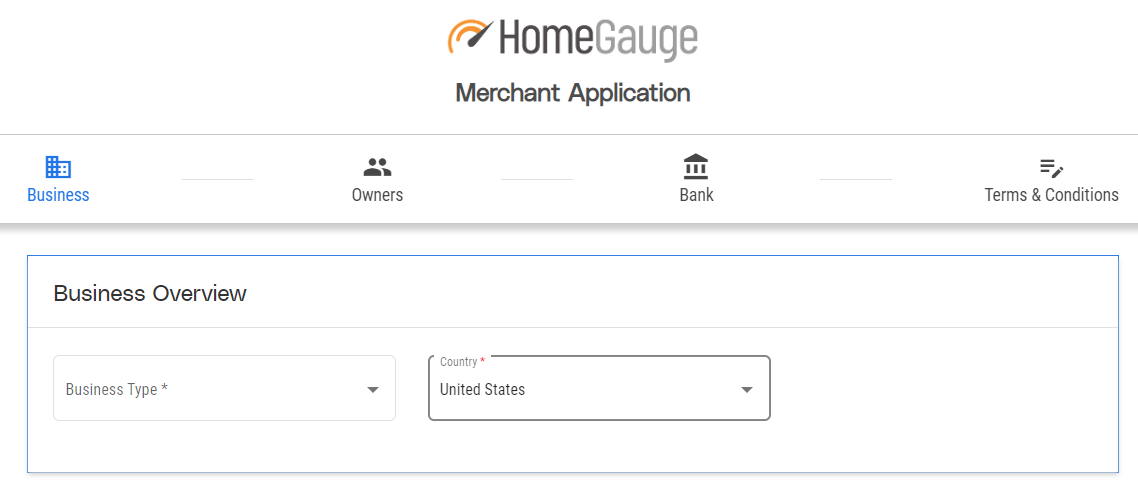 4. Enter the Legal Business name (what appears on tax documents).


5. If your legal business name doesn't match what appears on your logo, is a dba or simply a long name, etc., you can type in the name of what you want to appear on your client's credit card statements. Fill out the field for Business Statement Descriptor. If it is the same as your legal business name, check the box below.

5. Click the drop-down, type in the search 8999 and choose the Industry Type "Professional Services" as shown below:

6. Enter your EIN "Employer ID Number" but if you are a sole proprietor and never were issued an EIN you can leave this field blank.

7. Enter your Business Phone, Email and Website.
NOTE: If you don't have a website, you must enter HomeGauge.com in this field.
Important! If you don't have a website, guess what!? We have you covered, click this link to learn about our website builds and SEO!
8. Click the button shown below (it turns yellow once selected):

9. Click on the words Business Details to expand and continue: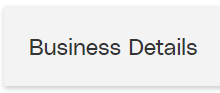 10. Skip this field - you don't have to fill that out!

11. Enter in this field "Inspection Services" - we recommend keeping it simple! The application review goes faster when it's simple like the suggestion above.

12. Enter the date (or estimated date) you started the company:

13. Enter an estimated yearly revenue. If you just started your business, enter what you expect for the year.


14. Enter an average transaction amount. For example, if most inspections you perform are $400, that is what you enter.

15. Click the words Business Address to expand and complete the fields:

16. Click the words Account Log In to expand and complete the fields:
This will be the log-in you use to access the HomeGauge Payments Dashboard.
Note: Passwords must include one number, one upper case letter, and one lower case letter and be at least 8 characters long.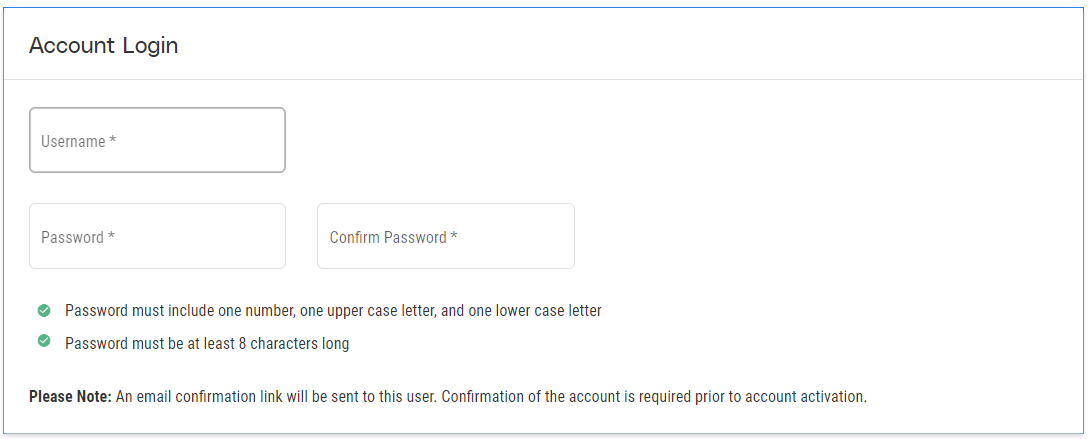 17. Click on the words Owner Information and fill out the fields:
Note: There is a box to click if the phone and email are the same as the ones entered for the business.

18. Enter your title in the business (ex: CEO, owner, president):

19. Enter the % of business ownership that you hold (ex: if you are the only owner, you have 100%)

20. Click Yes or No. Significant responsibility means you have legal authority to control the business if entering into a legal commercial relationship.

21. Click the words Owner Address to expand and complete the fields:

22. Click Add Owner and complete the same steps if you want to add another legal owner:

23. Click Next to move to the next step:

24. Click the button shown below to start adding your bank details (that's how we know where to send your hard-earned money after all!):

25. Add your bank account details (routing # and account #) in the proper fields. Use the drop-down to choose what type of account and click Add:

26. Click on the words Document Upload to expand. Click on Upload File which allows you to locate the image file of your voided check. Or your can drag and drop the file.

You are not required to add a note or an additional document at this point. Just upload the voided check.

27. Click on the link for Bank Disclosure. The document will show on another tab on your browser for your review. When done close that tab.


28. Click on the link for Merchant Terms and Conditions. The document will show on another tab on your browser for your review. When done close that tab.


29. Click to check the 2 boxes to agree.
Note: You must click each link in steps 27 & 28 in order for the boxes to be selected.


30. Click the Sign Up button to complete the application for review:

Congrats! You have signed up!
There is a short waiting period for approval. This could be a few minutes to a few days, depending.
You will receive an email once approval is complete with more detailed information.
For further learning, after you are set up, check out the articles below:
How to Review and Record Payments: