Get paid online! HomeGauge Payments will automate the process, allowing clients to easily pay online. After a successful transaction, the report is released for viewing. It's all automated to save you time and give you peace of mind!
Offering competitive low rates with no monthly or annual fees. Debit cards 2.45%, Visa and Master Card 2.95%, Amex and other credit cards 3.09% with $.40 per authorization.
Please note that this feature is only available to US companies at this time.

If you need any assistance with any part of the application process, please contact HomeGauge Support by submitting a ticket or phone call to 828-254-2030 Option 1.
How to Setup HomeGauge Payments
1. Gather the basic business and banking information below:
Inspector/Owner SSN

Business EIN Number

(Not sure where that is?)


Photo of a Voided check for upload to the form if linking your bank account manually

Bank Account login information
Link your account with Plaid (explained later in this article) and you don't need the voided check!
2. Click on this link to be directed to the HomeGauge Payments Application
3. Enter your business information in the form shown below: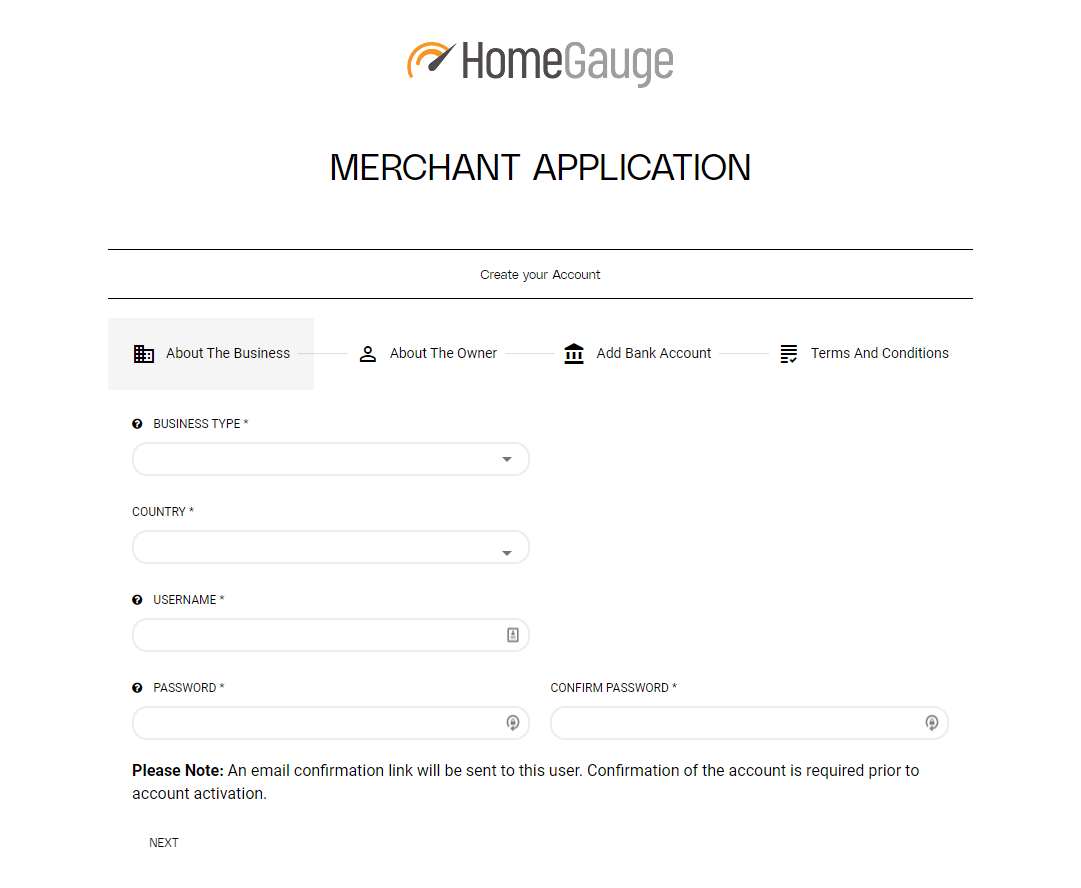 Use the information below to help complete some of the questions on the application:
IRS Legal Filing Name: This must match what the business uses on IRS documents
Industry: Use the drop-down menu to select "8999-Professional Services"
Environment: Use the drop-down to select "Customers enter their payment information online primarily"
Business Description: Home Inspection Services
Website: If you do not have your own business website, you can add HomeGauge.com in this field



4. Enter information about the owner of the business in the form shown below: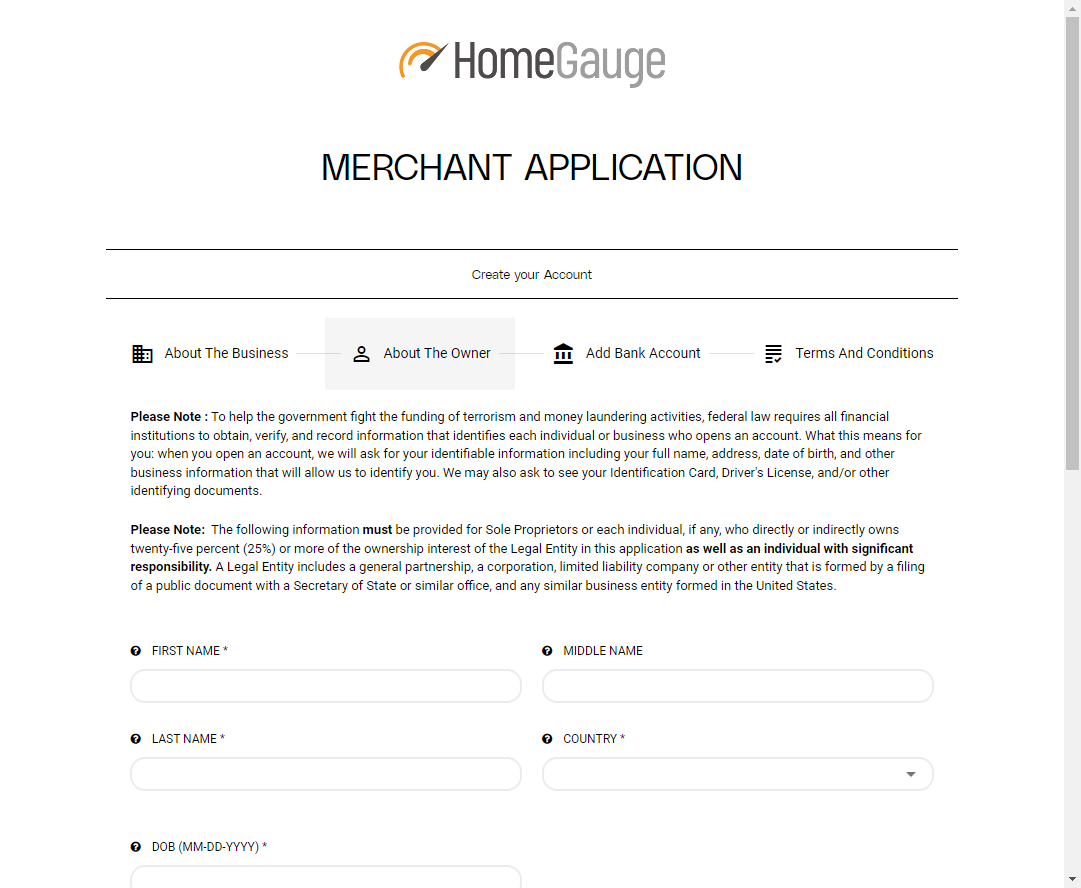 5. Add your bank account by clicking on one of the links shown in the form below:
For the fastest verification, you can link your bank account utilizing the Plaid service by clicking on the words "PLEASE LINK YOUR PRIMARY BANK ACCOUNT." You can read about using Plaid later in step 6.
Or manually link by clicking on the words ENTER ACCOUNT MANUALLY.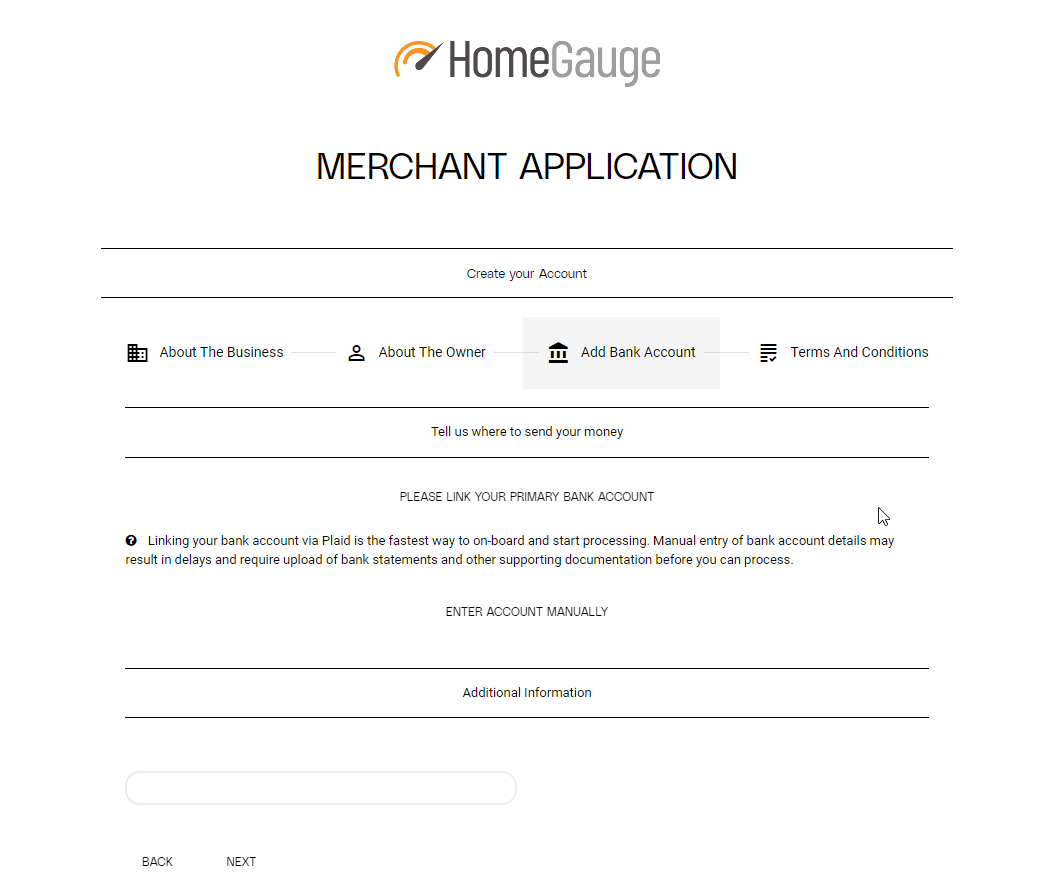 Step 6: View and accept the Terms and Conditions, sign your application: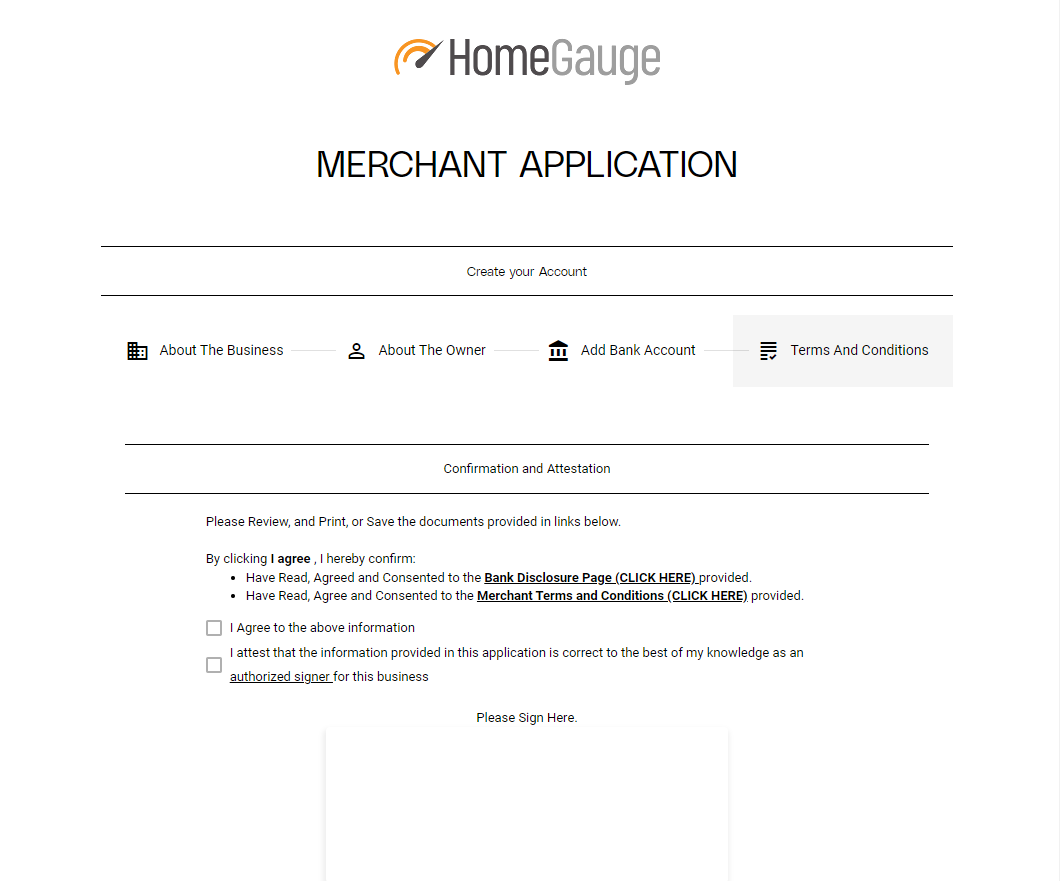 Note: You must click on to open both term links before you can select the agreement check-boxes.
Congrats! You have signed up and there is a short waiting period for approval. This could be a few minutes to a few days, depending. You will receive an email once approval is complete with additional account information and a link to the final step How to Take a Test Payment.
For further learning, after you are set up, check out the articles below:
How to Review and Record Payments:
Link Bank Account Using Plaid
Select the

Please Link Your Primary Bank Account

button to launch the Plaid window:





Select

Continue

to display the bank search:



Once you've located the bank, you are prompted to enter the Bank Login Details



Once the bank Login information is submitted, the user will receive a prompt for two factor authentication (if enabled on the inspector's back account):



Once the two-factor information has been confirmed, the user is prompted to select the account in which they want funds deposited:



After selecting continue, the bank account will be linked:




How to Add your Bank Account Manually

Use the steps below if your bank account is not available in Plaid, or if you would prefer to sign up manually.
Note: When manually adding a bank account, the user's account may take longer to verify.
Note: The Customer will need a voided check to manually add a bank account
Select the

Enter Account Manually

button to launch the bank account form:



Once information is entered, select

Submit.

The bank account information displays:



Select the

Upload

option and upload a photo of a voided check:



Once added you proceed to Terms & Condition shown above in Step 6.