Who is HomeGauge?
Hello! We're HomeGauge! We've created sophisticated software solutions for Home Inspectors to provide excellent service and run successful businesses for the past 20 years.
We also maintain a Homebuyer Dashboard where Inspectors can collaborate with their customers on a variety of tasks, such as:
View, sign, and share agreements

Access your report and follow up

Conveniently and securely make payments

Use our innovative CRL™ repair list tool

Get exclusive homeowner deals and discounts
Check out our Home Buyer page for more information.
Do I need to sign up for any offers to view my inspection report?
Absolutely not! At HomeGauge, we believe in the Consumer's choice to be contacted. If you are not interested in any of the offers from our partners, you can decline to move forward to your Inspection Details page.

Why am I seeing this?
You've recently worked with an Inspector who uses HomeGauge software to provide you with excellent service and experience for your home inspection. At HomeGauge, we believe that the home-buying process should be enjoyable. We also know that it comes with a to-do list the size of your new house.
HomeGauge provides resources to address some everyday stressors about purchasing a home.
Home Insurance

Packing / Moving

Storage

TV/Internet

Home Security
How can I take advantage?
On your HomeGauge dashboard, you will have the opportunity to be matched with our partners. These vetted companies align with our vision of making the home-buying process more enjoyable.
Insurance or Security Consultation
When logging into our dashboard, you will be asked if you'd like to be contacted by our partners for a personal, in-depth discussion of your Home Insurance or Home Security needs. If you are not interested, do not check any of the boxes and hit Continue.
We will only send your information to our partners if you sign up for this service. Period.
How to accept or decline optional offers
My Offers page
The My Offers page is a collection of benefits from our partners that you can browse on your time. Each offer is unique to that partner and may change at any time. Click on a partner's offer to be navigated to their site.
We do not send any personal contact information to these partners, even if you engage with them on our site, Period.
Any products or services you purchase will be on our partners' page: My Offers
Current deals on the My Offers page
We have focused on the packing, moving, self-storing, and TV/Internet setup steps of settling into your new home. These deals include:
5% off packing and moving materials (make sure to use our promo code NEWCUSTOMER)

5% off your entire move when you book with our professional Movers network (make sure to use our promo code HGINSP)

Price and availability comparison for storage options in your new area

Price and feature comparison of TV/Internet providers in your new area


See My Offers for more information.
What if I am not interested?
We get it. You have plenty going on right now!
As always, we will only share your contact information with our partners if you ask us to do so.
Feel free to check back to see future deals available to you.
What if I would like to provide feedback?
At HomeGauge, we operate under the motto 'plan like you're right and listen like you're wrong.'
We want to hear your feedback, good or bad. It's the only way to continue to deliver the highest quality experience for you.
Feel free to reach out to our 100% US-based Support team. Live Support is available Monday-Friday, 9 am – 8 pm ET (because they are real people with real lives, and we want their lives to be enjoyable).
HomeGauge Support can be reached:
What is the HomeGauge dashboard welcome experience?
Welcome to HomeGauge! This page overviews the Welcome experience and gets you settled with your new HomeGauge account.
The Welcome experience is a quick and easy 3-step process that can be completed in less than a minute.
Introduces HomeGauge (and our relationship to your inspector)

Allows you to confirm or update your information

Presents optional offers that are available
Step 1: Welcome!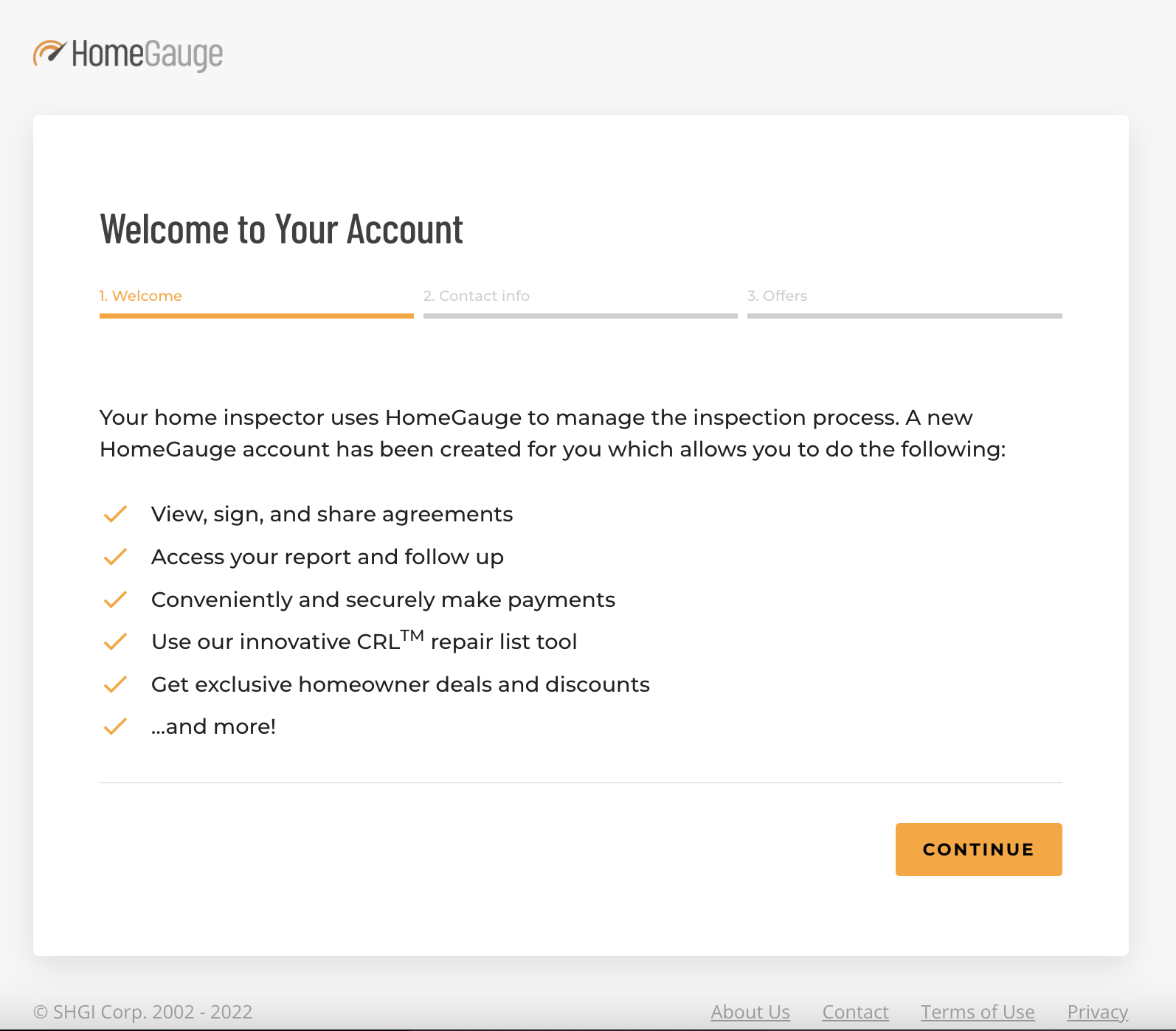 Step 2: Confirm / Update contact info
Take the opportunity to review and update your information. Correct information will ensure Inspectors and any partners you ask to contact you are reaching you with your preferred contact information.
We want to ensure that your experience is overwhelmingly positive, including being contacted with your preferred info.
Anything that is not critical to ensure a positive experience is optional.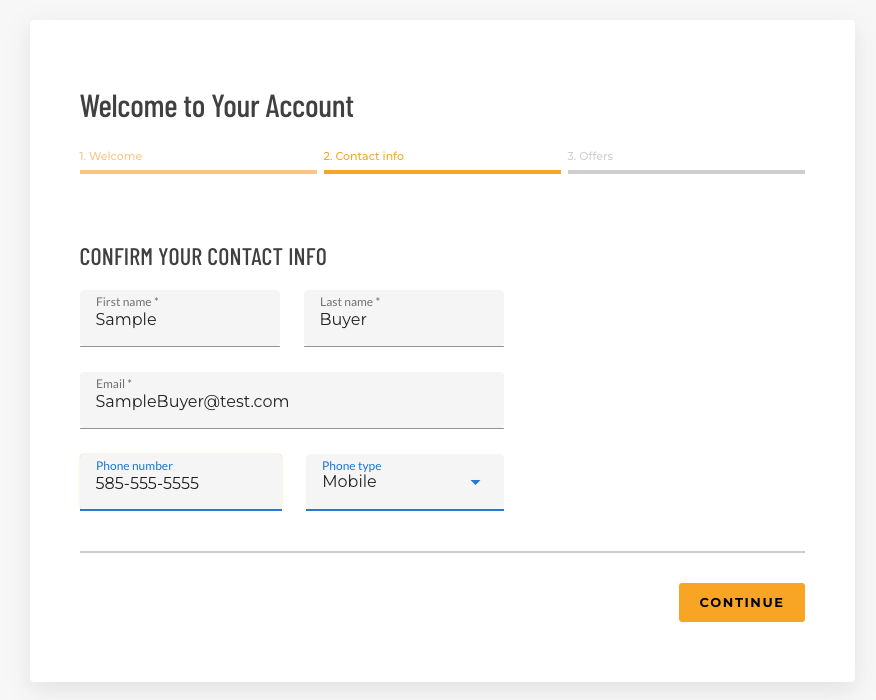 Step 3: Review optional offers
Finally, we will present any offers from our vetted partners that interest you. An in-depth explanation of accepting or declining these offers is available: How do I Accept or Decline Option Offers?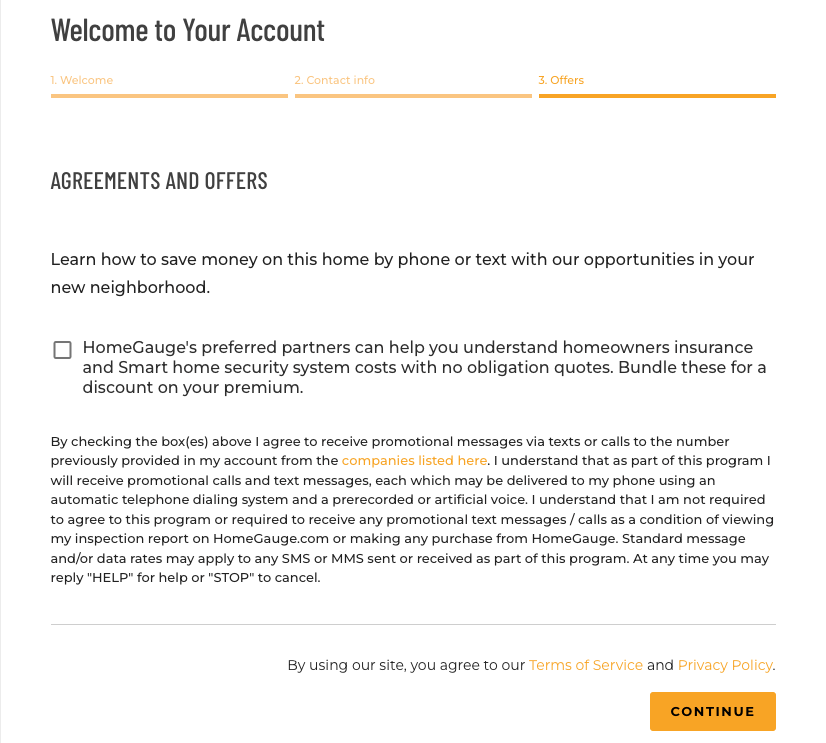 You might see that there are no available promoted offers from our vetted partners at the time. We apologize in advance if this happens. We also provide a page to browse various discounts and resources related to getting you settled in your home that you can check out here: My Offers.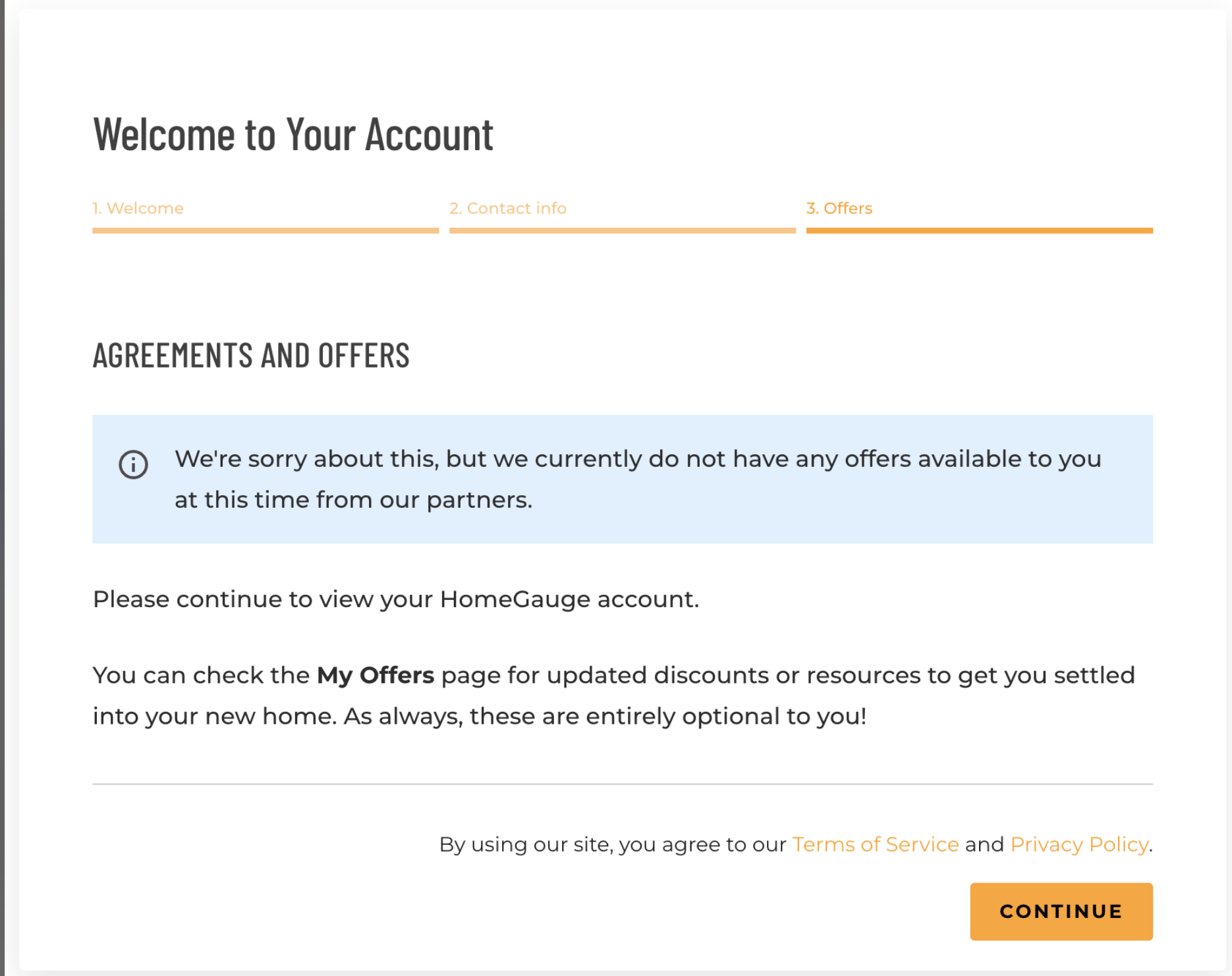 Why am I seeing this?
HomeGauge believes that the home inspection is the first step of your home ownership maintenance playbook. A successful playbook should identify risk, create a plan to resolve it, and add protections to mitigate future risks during the homeownership journey.
A proper home inspection helps identify risks and create a plan to resolve these issues correctly. HomeGauge wants to continue to help with that playbook by offering services that help mitigate future risks and alleviate other common frustrations.
You see this because HomeGauge believes we can help knock a few things off your to-do list. We provide these offers to our homebuyers as part of our inspection software solution.
Again, these offers are entirely optional, and you do not need to participate in using HomeGauge's products, such as paying invoices, signing agreements, or viewing your inspection report
Why Home Insurance?
Home Insurance is an essential and often required step in the home-buying process. Most banks and lenders will need home insurance on the property, and it's just a good thing to have for what is often the most significant financial investment of our lives.
Protects your investments

Most likely required by your lender.

Eases the financial burdens of unexpected disasters
Why Home Security?
Home Security is not for everyone. However, a Home Security system has numerous benefits to homeowners, including saving you money on your home insurance premium. It helps mitigate future risks of theft or damage by having round-the-clock monitoring, alerts, and surveillance.
Reduces your home insurance premium (typically up to 20%)

24/7 monitoring of your home by professionals

Know what's happening inside and out with surveillance cameras and doorbell cameras.

Disaster protection – many partners offer water sensors to more quickly identify leaks

Mobile alerts keep you in the loop on everything happening in your home.

Increased convenience through integrations with Smart Home systems
Why help with Packing & Moving?
HomeGauge asked homebuyers who had recently gotten an inspection, "What things are stressing you out about your upcoming home purchase?" Based on survey results, the number one task is packing and moving. HomeGauge has identified partners who can help homebuyers with this in various ways.
Packing supplies can be expensive - save 5% off with our trusted partner.

The average cost of professional movers in the US is $1,500 - save 5% off with our trusted partner (~$75 in savings)

The logistics of moving are often the most stressful. For those that need it, browse and compare pricing on Storage unit rentals.

Cross one more thing off your moving list by discovering your new home's TV and Internet packages.
What can I do with my HomeGauge account?
This page is a good resource for an overview of your HomeGauge account: Customer Dashboard: Accessing and Managing Documents and Offers.
Some specific features you might be interested in are:
What if I have a question or would like to provide feedback?
At HomeGauge, we want to hear your feedback, good or bad. It's the only way we can continue to deliver the highest quality experience for you.
Feel free to reach out to our 100% US-based Support team. Live Support is available Monday-Friday, 9 am – 8 pm ET.
HomeGauge Support can be reached: