To cancel or void a credit card transaction in HomeGauge Payments:
2. Click on Payments History from the side menu: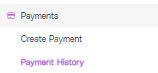 3. Click on the dollar value for the transaction you want to Cancel or Void.
Note: Only transactions that are in the "approved" status with the purple checkmark icon can be canceled or voided. If there is a different status like the green checkmark "captured", then a refund will be the only option.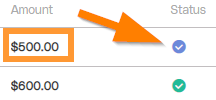 4. Click either the Cancel or Void button and confirm to complete:

Note: Click on the Void button will allow you to type in a partial amount to void. You do not have to void the full amount.
What is the difference?
While a payment is still within the Approved status, it cannot be refunded as no funds have yet been transferred from the cardholder. You have two options for reversing an Approved transaction:
Canceled

-

While a payment is still within the

Approved

status, you can reverse it by

Canceling

the transaction.

Canceling

a payment removes the

Approved

transaction from their daily batch, and thus, it isn't sent to the processing bank and the money isn't withdrawn from the cardholder nor transferred to your HomeGauge Payments account.
Because the payment was already authorized and Canceling a transaction doesn't reverse the authorization, you can Cancel a payment, but then re-add it to their batch if the circumstances change within 24 hours of the transaction being submitted.
Voided

- The second option for reversing an Approved payment is to Void the transaction. Voiding a transaction reverses the existing authorization, and thus, it is a permanent action. Once Voided, a payment cannot be re-added to your batch at any point.