If you open HomeGauge or attempt to upload a report, you may be greeted with the message that you are current using a trial version or that your trial of HomeGauge has expired.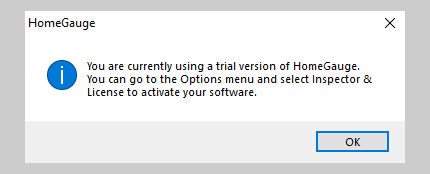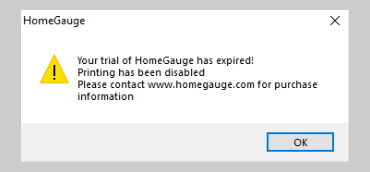 Many times, this is due to your license being deactivated and is not indicative of your subscription or payment status.
How does license deactivation happen?
There are many reasons for the license to become deactivated. While, we are not aware of every reason, we have observed cases where anti-virus software has interacted negatively with HomeGauge which has resulted in a deactivated license.
How to Activate When on a Trial
Within HomeGauge, Click on Options > Inspector & License
Verify that your name and company are correct. Also verify that the license key has been entered. If your license key is blank, or if it's incorrect, type in your license key. To find your license key, click here.
Click Activate.
You will be prompted to restart HomeGauge. Please close and reopen the software.
Once restarted, you will be able to proceed as normal.
I Reactivated the Software But I'm Still Unable to Upload a Report
Double check that the software is, in fact, active. Go back to Options > Inspector & License and make sure there is a green bar at the bottom confirming an activated license. If it's still red, you may have hit OK instead of Activate.
Activation Failed: Inspector Name or Company Name Does Not Match
Once activated, HomeGauge stores a record of what was entered for your inspector and company name. When re-entering this information, it must match perfectly with what was previously entered or you will receive an error when attempting to reactivate your license. Re-attempt entering your name and company info or contact HomeGauge support for more assistance.